Have some younger clients that are not comfortable getting there haircut? Maybe a kids car barber chair with put them at ease, and calm them down. The kids will be filled with joy, and happiness making them feel relaxed. With a cool kids car barber chair there hair cutting experience will be fun, and enjoyful!
By having a super cool car barber chair for kids it may prevent the young kid from crying, kicking, and screaming. The parents may also no longer have to hold there kid, or sit with them during the haircut. How the kid reacts to the cool car barber chair will depend on the kid personality. For some kids they'll will have wonderful memories getting a haircut until they are ready to sit like a big boy on a regular Barber Chair.
You may ask yourself if this will make the kid move? Some kids already move, cry, scream, bite, resist, and you name it without the kids barber chair. The kids car chair may stop them from crying, screaming, and resisting the haircut, and actually make them move less, because there focus will be on the cool car interior. For the kids that give more trouble during a haircut it'll be an easier time for you, and the kid.
For ages 2 to 7yrs
Sturdy Chair 
Strong Base
Max Capacity Wieght: 300lbs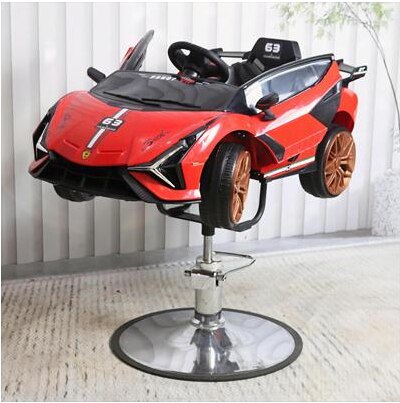 WORLDWIDE DELIVERY
ARRIVES IN BOXES
10-16 days to USA
14-28 days to Worldwide
 365 DAY GUARANTEE
We offer a 365 day money back guarantee. Risk free shopping at Barber Jungle!
 24/7 CUSTOMER SUPPORT
If you have any questions please contact us at barberjungle@gmail.com were are here to help.